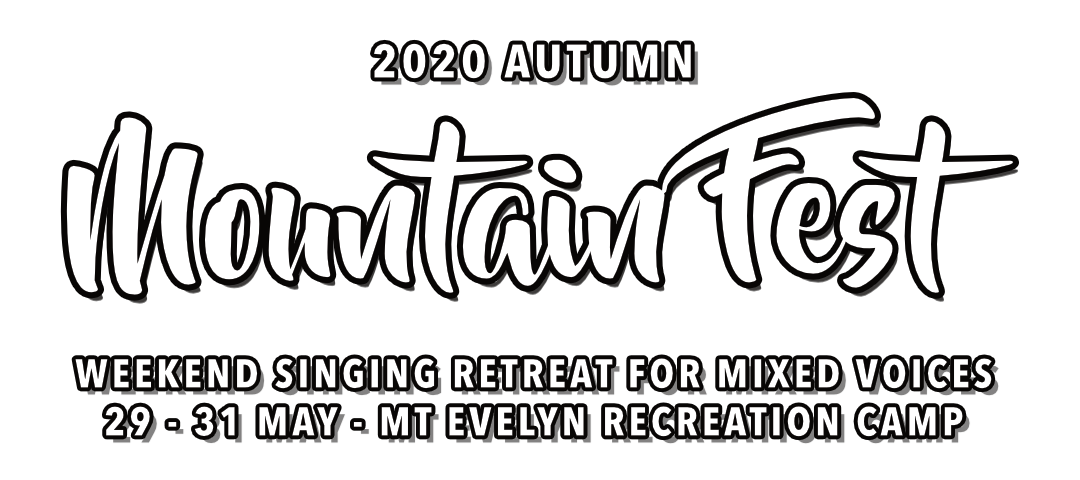 DETAILS
The 2020 Autumn Mountain Fest is a weekend singing retreat for all voice types, styles and experience levels.
WHAT: Feed your soul some fabulous music, meet some other local singers, and enjoy the clean Mt Evelyn air.
WHEN: Friday 29 – Sunday 31 May 2020
WHERE: Mt Evelyn Recreation Camp
VENUE LOCATION
 * Make sure you take the path to your right, just before you enter the football oval *

Workshops from some of Australia's best choral directors and musicians.

Firepit sing-a-longs with wood-fired pizza supper

Friday night music team trivia

Drumming Circle
To sing with a group of people from all walks of life in a safe and comfortable environment was terrific. The beautiful harmonies that each instructor teased out of the group brought goosebumps upon goosebumps. The happiness instilled in me through this experience has lingered for weeks.
My life was changed forever at Mountain Fest; I stumbled upon it looking to sing with others and found gold. This weekend at the very least will expand your horizons both musically and socially and might just change your life; do it! 
  A great opportunity to share singing and moving in harmony. A opportunity to learn a variety of different vocal styles A great place to meet like- minded people. 
A great balance of singing, learning, playing and getting to know other music lovers. Chris and the team were professional in their approach and made sure everyone was included and had a good time. Thanks so much for a fantastic event. 
Our range of world-class presenters will be announced shortly. Please sign up for our mailing list (melbournesingingevents.com) if you'd like to stay informed.
Our goal every Mountain Fest event is to assemble a team of 5 to 6 presenters to cover a variety of genres, styles and experiences for everyone. Trust us, there's something for everyone!
Our past presenters have included:
…and many, many more.
The accommodation provided onsite is camp style living –  3 to 4 people per room, most of them large rooms that could take 6 to 10 people. You must provide your own bedding and bring a towel. There is a communal bathroom located on each floor. 
If you prefer something a little more luxurious, here are some other options for accommodation within 10km of the site:
If you like singing in a friendly environment, this is the event to come to. Great teachers, great group, a fun weekend! 
I can't think of a better way to discover how much fun singing is – even if you've never sung before. If you think you can't sing but wish you could, this is the perfect place to start exploring. 
A fabulous weekend for those who love to sing in company with others. Simple but perfectly adequate accommodation, sessions presented by top choir leaders, the chance to sing around the fire pit into the wee small hours, lots of good company. 
It was a challenging and fun exploration of so many different types of music – it was so amazing what we were able to achieve and it really fired up my passion to do more.