SINGING WORKSHOPS
SING WITH AUSTRALIA'S BEST MUSICAL DIRECTORS
During the day we meet in the hall for a variety of singing workshops. Different styles, genres, and different leaders. The sessions have an emphasis on beautiful harmony, spine-tingling moments, and heart-warming connection.
A feast for the ears, a fizz for the brain, and a tonic for the soul!
DETAILS
The 2023 WINTER Mountain Fest is an act of defiance against the cruel cold winter. Set at the closest weekend to the winter solstice, they are the shortest days and longest nights of the year. So what are you going to do about it? Dig in with your 'oodie' and 'moccasins' and watch TV, or haul yourself up the mountain for a weekend getaway of soul-warming singing, fabulous friends, red wine and fire! Seems like a no-brainer to me!
This is a great chance to reconnect with your voice, your heart and your community after a tough couple of years.
WHAT: Feed your soul some fabulous music, meet some other local singers, and enjoy the clean Mt Evelyn air.
WHEN: Friday 16 – Sunday 18 June 2023
WHERE: Mt Evelyn Recreation Camp
TICKET INCLUDES:
ACCOMMODATION (2 nights), ALL MEALS, PRESENTERS and ACTIVITIES!
VENUE LOCATION
 * Make sure you take the path to your right, just before you enter the football oval *
A weekend singing camp with music trivia, singing workshops and an awesome fire pit singalong. There are also some other activities including morning yoga and drumming circles. It is the perfect weekend if you love singing and music! 
FIREPIT SINGALONGS
CONTRIBUTE A SONG TO THE FIREPIT ORCHESTRA!
Rug up, grab your guitar, and come join the cacophony of musical delights at our under-cover, all-weather firepit. Contribue a solo, join in on a well-known chorus, shake a tambourine, or just bask in the glow of the wonderful atmosphere.
The Winter Mountain Fest was two days of pure joy! Singing was always important to me, but this event showed me how long such a joyful experience could last – it was quite eye opening.
TEAM MUSIC TRIVIA
MEET SOME AWESOME PEOPLE!
Friday night starts with a light dinner, a casual drink, and some team music trivia. Whether you are a trivia buff, or merely contribute a question or two, music trivia ensures you get to meet some terrific people, spark some great stories, and make some life-long connections.
A safe and welcoming environment for all levels of singer, a great variety of talented presenters, with the added bonus of a music trivia quiz and firepit singalongs in the evenings. 
DRUM CIRCLES
TAKE OUT ALL YOUR FRUSTRATION ON A DRUM!
Feel the power of three dozen city folk bashing out their year's angsts on some animal skins in the name of art! It's an incredible feeling to say the least!
The Mountain Fest feeds your soul by making music, meeting great people and having lots of fun. Very inclusive. The afterglow lasts longer than the smoke in your clothes!
To sing with a group of people from all walks of life in a safe and comfortable environment was terrific. The beautiful harmonies that each instructor teased out of the group brought goosebumps upon goosebumps. The happiness instilled in me through this experience has lingered for weeks.
My life was changed forever at Mountain Fest; I stumbled upon it looking to sing with others and found gold. This weekend at the very least will expand your horizons both musically and socially and might just change your life; do it! 
  A great opportunity to share singing and moving in harmony. A opportunity to learn a variety of different vocal styles A great place to meet like- minded people. 
A great balance of singing, learning, playing and getting to know other music lovers. Chris and the team were professional in their approach and made sure everyone was included and had a good time. Thanks so much for a fantastic event. 
DARREN PERCIVAL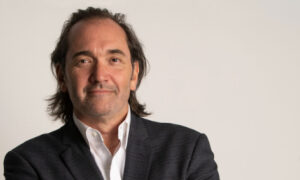 Click for Full BIO
When Darren Percival boldly resonated out of televisions in the lounge rooms of millions of Australians on the first series of The Voice in 2012, his unforgettable and uplifting performances went straight to their hearts and thirty years of dedication to his craft was recognized.
Darren is more than just a singer.
He is one of Australia's most accomplished vocalists, a Gold record selling recording artist, gifted musician, dedicated songwriter, the wizard of vocal looping, an avid painter and renowned vocal coach.
Recently, he created Sonic Exhibition – an audio art gallery to share his original music with people everywhere…
He established The Singing Space in 1997 to offer individuals, gatherings and choirs the tools to unlock the barriers that stop them from singing and vocalising freely.
His company Harmonious Collaborations facilitates offsite retreats for corporations to maximize business outcomes, transform the wellness of their teams and strengthen productivity by giving confidence to the top talent.
Darren plans to share his gift of inspiring people to be brave and speak from their heart as they sing out loud. The science is in, the word is out – singing is good for our health.
​​
NICKI JOHNSON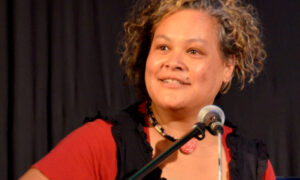 Click for Full BIO
Nicki Johnson makes music: as a singer, as a song leader, as a creator and collaborator, and believes that participation in music-making is a powerful force for healing and change. Nicki has led groups of culturally and linguistically diverse singers; designed and delivered singing projects to connect and support parents and babies; and facilitated singing and songwriting programs with vulnerable young folk. In her role at Community Music Victoria Nicki is responsible for the design of such programs, collaborating with CMVic's Regional Catalysts, music group leaders and local communities in their implementation.
Nicki's great passion is in sharing music with a focus on inclusion, social justice and climate activism, and currently leads a health centre choir in Banyule, With One Voice inclusive choirs in Kingston and Greater Dandenong, and fun ukulele jams in every spare moment.
As performing and teaching artist with Songrise quartet, Nicki sings the lowest notes and can thump out a pretty funky body percussion routine when required. With partner Craig Barrie, Nicki is one songwriting-ukulele-playing-mouth-trumpeting half of contemporary folk duo All the Way Home.
SHAUN ISLIP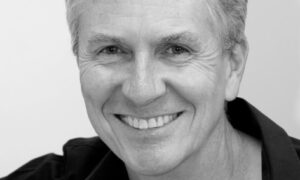 Click for Full BIO
Open Door Singers Musical Director Shaun Islip, internationally acclaimed choral conductor. As boy soloist to Sir Benjamin Britten, Shaun began his choral career at an early age, rapidly emerging as a leading interpreter of sacred and secular choral music in the UK.
Later graduating with honours from London's Guildhall School of Music and Drama, Shaun has enjoyed a distinguished international career spanning 50+ years as soloist, cabaret artist, musical director to numerous BBC broadcasts, and is currently directing 7 community and corporate choirs across Melbourne.
Shaun's dynamically charismatic style and 'can do' approach constantly allows the most experienced to lift the musical standard while still enabling the OPEN DOOR approach of inclusivity, encouraging people of every ability, age and background to discover their voice and unlock the enormous benefits and enjoyment of singing.
Shaun's warm and engaging personality, inclusive approach and excellent credentials are a key contributor to the popularity of Open Door Singers.
CHRIS BLAIN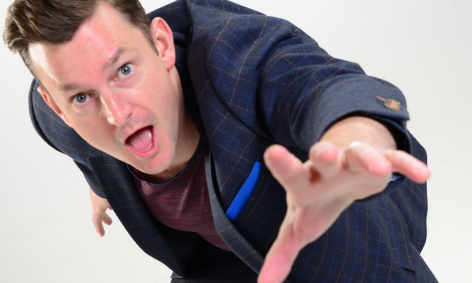 Click for Full BIO
Chris has been writing, producing, managing and performing in the music industry for over fifteen years, and has a wealth of knowledge of the artistic, technical and business sides of the industry.
Chris' a cappella man-band SUADE performed for nearly twenty years, touring extensively, both locally and internationally. They produced four albums – the latest self-produced by Chris and his brother Loz.
Chris works with MusoMagic, running youth leadership and development programs throughout indigenous communities in Australia, and runs music programs for Red Dust Roel Models. He's also the musical director of "Men In Suits", runs Melbourne's "With One Voice" choir, and was a co-founder and director of Vocal Australia – Australia's a cappella singing hub.
He's also the director of Melbourne Singing Events, and Keynotes Team Singing – ventures aimed at bringing communities together through song – and a registered civil marriage celebrant to round things off!
EMILY WALTER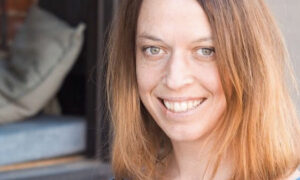 Click for Full BIO
EMILY WALTER has over 15 years of experience in facilitating small and large groups of young and old through retreats, camps and leadership training days. Her passion for percussion was born when she discovered and joined a drumming group in Balnarring and was blown away by its ability to draw people out and lift up a group of relative strangers; she witnessed a higher connection built through rhythm in the moment and the transformative experience of self expression both on a personal and community level.
Emily eventually found herself on a drumming tour in West Africa where she and a group of other enthusiastic percussionists were trained by drumming and dance masters and lead to a place of complete awe and appreciation of the incredible power of rhythm in community.
SONGRISE QUARTET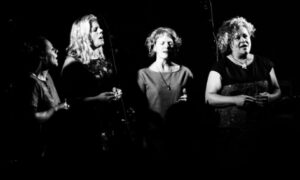 Click for Full BIO
Drawn together by their deep passion for creating harmony, in community as much as in music, Songrise are Emily Hayes, Flip Case, Katie Hull Brown and Nicki Johnson
Singing about life, longing and constellations, four unique voices entwine in a luscious dance of harmony, rhythm and body percussion: a shimmering performance in which the whole transcends the sum of the parts.
Songrise share their love for great songs as performers and teachers, leading many groups in song each week throughout Melbourne and beyond, turning every simple gathering into a joyful celebration.
SCHEDULE
Please note: This schedule may change slightly in the lead-up to the event. We will keep you informed as quickly as possible. 
FRIDAY 16 JUNE
From ​17:00
: Arrive, registration
​18:00: Light meal
​18:30: Welcome, introduction, team MUSIC TRIVIA
​21:00: Firepit Sing-a-long
SATURDAY 17 JUNE
​07:30: Breakfast (Hot food from 08:00)
08:30: Morning Activities (Basic Yoga)
​09:30: Warm up and intro
​10:30: Morning Tea
​11:00: WORKSHOP 1: DARREN PERCIVAL
​12:30: Lunch
​13:30: WORKSHOP 2: CHRIS BLAIN
​15:00: Afternoon Tea
​15:30: EMILY WALTER (Drumming Workshop)
17:00: WORKSHOP 3: NICKI JOHNSON & SONGRISE
18:30: Daily recap
​19:00: Dinner
​20:00: Firepit Sing-a-long
SUNDAY 18 JUNE
07:30: Breakfast (Hot food from 08:00)
09:30: EMILY WALTER (Drumming Workshop)
10:30: Warm up and intro
11:30: Morning Tea
12:00: WORKSHOP 4: DARREN PERCIVAL
13:30: Lunch
14:30: WORKSHOP 5: SHAUN ISLIP
16:00: Recap, Farewell
16:30: Depart
The accommodation provided onsite is camp style living –  3 to 4 people per room, most of them large rooms that could take 6 to 10 people. You must provide your own bedding and bring a towel. There is a communal bathroom located on each floor. 
If you prefer something a little more luxurious, here are some other options for accommodation within 10km of the site:
Econolodge Lilydale
(~$171 per night)
If you like singing in a friendly environment, this is the event to come to. Great teachers, great group, a fun weekend! 
I can't think of a better way to discover how much fun singing is – even if you've never sung before. If you think you can't sing but wish you could, this is the perfect place to start exploring. 
A fabulous weekend for those who love to sing in company with others. Simple but perfectly adequate accommodation, sessions presented by top choir leaders, the chance to sing around the fire pit into the wee small hours, lots of good company. 
It was a challenging and fun exploration of so many different types of music – it was so amazing what we were able to achieve and it really fired up my passion to do more.